UNHEALTHY SPINE TRAITS in Orléans ON

A misaligned spine will cause abnormal loads and eventual degeneration as you interact under the load of gravity. Organ function, healing, and repair will also be impaired, as the spinal cord is negatively impacted by bad spinal positions. If you don't know how to identify an unhealthy spine in Orléans ON read this article.
---
Right Pelvic Translation and Left Pelvic Elevation in Orléans ON
These images demonstrate right pelvic translation and left pelvic elevation.
The images below show a loss of cervical lordosis (neck curve), forward head posture, thoracic hyperkyphosis (middle back curved too much), posterior thorax (sway back posture), and lumbar hyperlordosis (pelvis too far forward) at the base of the spine.
SUBLUXATED SPINE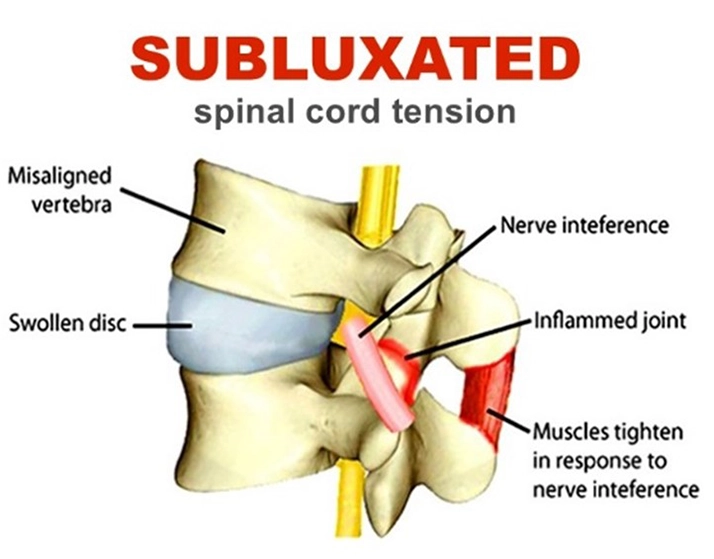 A Chiropractic Subluxation is defined as abnormal alignment and/or showing abnormal movement between the vertebral segments. The abnormal position movement of the spine can also greatly affect the nerve system (brain, spinal cord, nerve roots, and end organs), causing interference or abnormal function and healing between brain and body.
---
ADVERSE MECHANICAL TENSION ON THE SPINAL CORD
Dr. Alf Breig, a Nobel Prize-winning neurosurgeon, pioneered work in functional neurosurgery. He helped people restore sensation and movement after spinal cord injuries. His cadaver dissections and surgical cases demonstrated that the spinal cord and nerve roots are relaxed when the neck has a curve (lordosis), and under tension with flexion of the neck (head forward posture).
Your spinal cord and nerves are stretched when your spine is in the wrong position! Dr. Breig described a loss or straightening of the neck curve (cervical lordosis) as producing 5-7 cm of stretching (adverse mechanical tension on the spinal cord)!
---
FUNCTIONAL NEUROLOGY
The newest and most exciting research in clinical biomechanics is demonstrating that a loss of the neck curve (cervical lordosis) causes the weakening of the spine and extremities. Upper neck subluxation in particular causes a loss of the neck curve. A loss of neck curve is associated with:
Neck pain
Headaches
Facet jamming (imbrication)
Muscle fatigue
The spinal cord, nerve root, & nerve degeneration
Disc deterioration
Visual loss
Loss of normal eye movements
Balance & gait abnormalities
Postural abnormalities
Decreased gut mobility
Decreased vital capacity
Decreased blood flow to the brain
Vertigo
And much more!
---
HEALTHY JOINTS & DISCS
Proper movement and alignment keep the cartilage and ligaments of the joints in the back of the spine healthy. The discs between your vertebrae are like cushions. With correct alignment and movement, the normal load on your discs is 30%, while your facet joints take 70% of the normal load on your spine.
---
HEALTHY NERVES
Most importantly, the correct alignment and movement of the spine allow maximum space for the spinal cord and nerves exiting the spine on the way to your organs. Good nerve supply is critical for the health of your body, allowing for maximal function and healing.
Monday
6:30am - 12:30pm
2:30pm - 6:00pm
---
Tuesday
6:15am - 12:30pm
2:30pm - 8:00pm
---
Wednesday
Closed
---
Thursday
6:30am - 12:30pm
2:30pm - 6:00pm
---
Friday
Closed
---
Saturday & Sunday
Closed
Monday
7:00am - 10:00am
3:00pm - 6:00pm
---
Tuesday
6:30am - 10:00am
3:00pm - 6:00pm
---
Wednesday
Closed
---
Thursday
7:00am - 10:00am
3:00pm - 6:00pm
---
Friday
Closed
---
Saturday & Sunday
Closed